The Results Are In: Insights from the RSA Conference 2015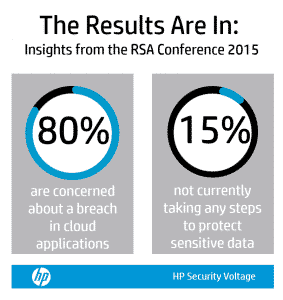 Last month HP Security Voltage attended the RSA Conference in San Francisco. The RSA Conference is the world's leading information security conference and this year's theme was, "Where the World Talks Security".
Over the duration of the conference, HP Security Voltage, a leading provider of data-centric security, conducted an anonymous survey querying attendees about their protection of sensitive data, and their current approach to securing data in the cloud. With 350 attendees participating, the results show that being compromised in a cloud-based app is a top-of-mind concern for 80% of the survey participants.
Here is a quick summary of the survey results:
Of those surveyed, 69% said their business currently gathers and stores some form of sensitive data such as PCI (payment card information), PII (personal identity information) or PHI (personal health information). When asked how they are gathering that sensitive data, 53% of the people surveyed said they are using a web browser, 24% are using credit card swipes and 33% are using mobile.
When it comes to protecting that sensitive data, 33% surveyed indicated they are using both encryption and tokenization, proven data-centric approaches to data protection. The survey further revealed that 41% said they are protecting that sensitive data using only encryption and 5% are protecting their sensitive data with only tokenization. A full 15% of those surveyed answered they were not currently taking any steps to protect sensitive/regulated data.
According to the survey, cloud security is a major concern. When attendees were asked if they were concerned about sensitive information being compromised in cloud-based applications, 61% of those surveyed responded they were very concerned, while only 19% were somewhat concerned. Lastly, 20% responded that they were not at all concerned.
Looking to the future, 56% of the respondents said they were currently planning big data projects involving sensitive data.
The old adage about breaches goes, "it is not a matter of if, it is a matter of when". HP Security Voltage knows this to be true and offers both HP Secure Stateless Tokenization™ (SST) and HP Format Preserving Encryption™ (FPE), proven high-performance data-centric security methods to help neutralize data breaches and deliver rapid PCI DSS compliance.
As cloud and Big Data adoption continues to accelerate, data security clearly becomes a key consideration. Data-centric security helps ensure the cloud is safe and secure.
The good news for consumers and healthcare customers, who depend on businesses and organizations to keep their personal information safe is that those in charge of these projects were at RSA learning the latest in cutting edge encryption, tokenization and data security.
More information can be found at https://www.voltage.com/breach