Gain Email "Peace of Mind in the Cloud"
Believe it or not, email still leads the way for communications in enterprise companies. Email is where much of our business takes place and is still the collaboration platform of choice. The average user sends a median of 30 emails and receives a median of 100 and spends more than 150 minutes per day doing work in email. That adds up to an average of 2.5 hours a day working in email.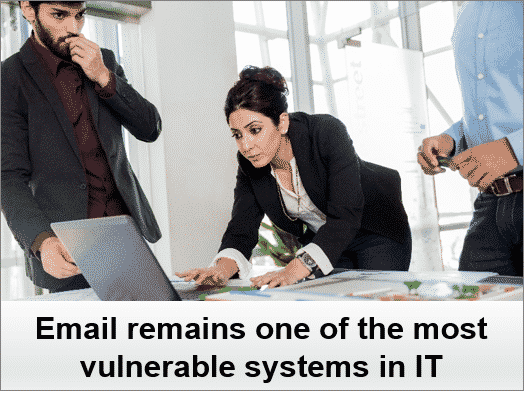 However, email remains one of the most vulnerable systems in IT. From Oct. 2013 through Feb. 2016, law enforcement received reports from more than 17,000 victims of business email scams, exposing companies to losses estimated in $2.3 billion. And since 2015, the FBI has seen a 270% increase in victims and losses. This means that email infrastructure is in constant need of protection. Failure to protect email communications can put companies at risk for loss of data, trade secrets, and reputation.
Enter the cloud
On top of that, corporate IT systems are passing through one of the biggest changes in years. Cloud-based Software-as-a-Service (SaaS) platforms are taking the place of on-premises servers. Among the new platforms, none is more important and more prevalent than Microsoft® Office 365. Office 365 has shown itself to be a highly capable bundle of email, scheduling, and collaboration tools, based on Microsoft servers "in the cloud." Users can tailor it to their specific requirements. All of this can mitigate the upfront costs of deploying new or upgraded messaging systems, reduce ongoing costs by minimizing IT labor requirements, and cut out future upgrade and migration challenges. These are all good things, however, with this increased convenience comes increased concerns about combining vulnerable email systems with cloud-based platforms, however secure they may be.
Using the cloud for email adds a new set of security concerns
Using cloud-based systems can provide a wealth of resources to organizations large and small. However it is important for any businesses using cloud-based services to understand the serious challenges, especially in terms of security and handling sensitive data. IT Security professionals should ask questions of any Office 365 deployment on the security and encryption of emails.
What can be done about email security concerns with cloud? 
If your company is moving or has already moved to the cloud, our new "Peace of Mind in the Cloud" eBook discusses the security issues associated with email and cloud-based office applications. This ebook educates on the security challenges with vulnerable email infrastructure, how the cloud adds a new layer of challenges to privacy and security, and how HPE SecureMail, our email encryption solution, is a natural complement to Office 365, enhancing its security, privacy, and usability capabilities.
HPE SecureMail enables end-to-end data protection, full privacy, and confidentiality on Office 365. Only your organization has access to the decrypted data—not Microsoft or even Hewlett Packard Enterprise. By encrypting emails when generated on desktop, mobile or web, HPE SecureMail eliminates privacy and security concerns, because all content is encrypted end-to-end before reaching the Office 365 cloud.
The ebook also presents two customer use cases, one on a top global credit card company, with operations spread across several continents. They were very excited about the possibilities collaboration in the cloud could offer their geographically dispersed employees. But, they were also concerned about the privacy and security of their internal and external e-mails and files stored in the cloud. Using HPE SecureMail gave them "peace of mind in the cloud" by encrypting all sensitive emails and files before they reached the cloud. This solution is now used by tens of thousands of employees and millions of external recipients.
Find out more about the power of our email encryption solution
Find out why HPE SecureMail is a natural fit for companies transitioning to Office 365, enabling a wide variety of use cases and functionality in our new ebook, "Peace of Mind in the Cloud."