Data Security Key for IoT
In case you haven't been paying attention, Internet of Things (IoT) devices are everywhere, in our appliances at home, in the cars we drive, and the buildings were we work. Industries that use IoT connected devices are very diverse: manufacturing, energy, telco, healthcare and transportation, to name just a few. And the numbers of devices keep growing. Gartner, Inc. forecasts that 6.4 billion connected things will be in use worldwide in 2016, up 30 percent from 2015, and will reach 20.8 billion by 2020.  And predictably, in 2016, we saw the first IoT breaches, either on the device itself, or a theft of data.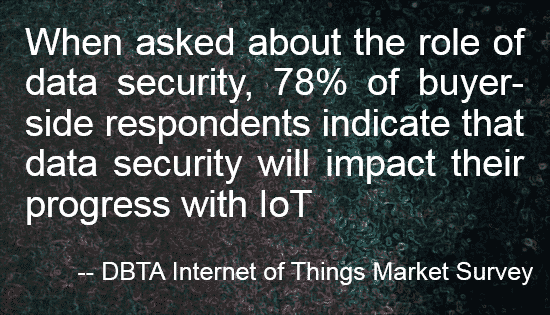 All of this connectivity means more data, gathered from more places, than ever before in history. Internet of Things has amazing potential. It can transform how and when decisions are made throughout business and our daily lives—but only if that data can be processed, analyzed, and put to use effectively and securely, states the Database Trend &  Applications (DBTA) Internet of Things Market Survey.
To shed light on the current state of IoT adoption and maturity, Unisphere Research and DBTA joined forces with Radiant Advisors to launch an IoT market research study with the support of sponsorships from MapR and HPE Security—Data Security. To shed light on the current state of IoT adoption and maturity, the researchers surveyed current and potential users across North America, to find out what challenges they faced and the success factors that are emerging in the market.
Why use IoT?
So with so many devices touching so many aspects of our lives, are business fully utilizing the power of IoT? The survey reveals that many companies are only in early phases of adoption of IoT. The primary use cases for IoT involve data analytics, and data science to invent new business models and capitalize on insights into customers and products, states the study. So while IoT and connected devices can talk to each other, and connect to the internet, IoT is really about the data it collects and how businesses can take advantage of this treasure trove of data. Although the study did not detail the types of data being collected from such a wide variety of sensors and devices, ultimately, data that identifies an individual will be collected, whether it be a VIN number from a connected car, or healthcare information from a medical device. Therefore, the study points out, data privacy and security challenges should be addressed early in IoT program design and development.
The top three technologies that buyer-side respondents plan to add, according to the survey, are related to properly supporting data science with IoT initiatives: data analytics or data science platforms (48%), cloud-based big data platforms or services for data acquisition (40%), and data security, encryption and masking (33%). Data security encompasses secure data capture and transport for safely using IoT data—as well as recognition of the potential for secure analytics, states the study.
The top three leading factors that most impact IoT technology decisions for buyer-side respondents are total cost of ownership (31%) followed by data privacy and regulatory compliance concerns (25%), and data security and governance capabilities or adherence at 15%. This demonstrates an awareness of the importance of data privacy and security for handling IoT data.
Unsurprisingly, the survey shows that companies are focused on leveraging advanced analytics and data science in ways that lead to deeper insights about their processes, customers and products, while establishing and reinforcing methods for data privacy and secure analytics.
Obstacles to IoT initiatives
Still, 33% of companies surveyed are having trouble understanding value of using IoT devices, and 24% can't justify the return on investment, according to the survey. Data privacy and regulatory compliance is the next most significant challenge, with 12% of respondents.
When asked about the role of data security specifically, 78% of buyer-side respondents indicate that data security (or lack thereof) will impact their progress with IoT. The fact that over three-quarters of responders are so concerned about not having proper data security in place that it is inhibiting their adoption of this game-changing technology, is unfortunate. IoT manufactures that build security in to their devices, and IoT users that use the best practice of data-centric security will be the real winners in the rush to utilize IoT.
Conclusion
The IoT Market Survey concludes that it is important to understand the role of data privacy and security and incorporate security into the design and development process. Failure to take into account data privacy and security at the start of an IoT project will likely require retrofitting and/or reassessment of technology decisions, warns the survey. In either case, the associated costs and setbacks will hamper IoT rollout and business planning.
More information: