Raise Your IoT Defense at HPE Discover 2016
Smart homes, smart cars, smart refrigerators, the Internet of Things (IoT) is here to stay…and expanding at a rapid pace. A recent Forbes article predicted that we will see 50 billion interconnected devices within the next 5-10 years. But did you ever think about the huge amounts of data that is being collected by these various devices? Or what kind of information if being collected about you? And is that sensitive information being protected?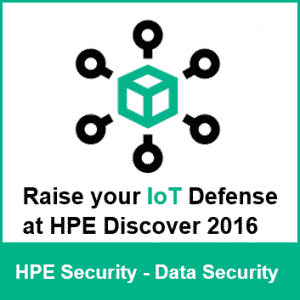 With this huge proliferation of IoT devices, organizations will need to act quickly to adopt new security methodologies and best practices in their Big Data projects and IoT offerings. Our new IoT blog site outlines these security challenges and solutions in a post titled: The daunting task of securing the Internet of Things and Big Data by Reiner Kappenberger, Global Product Manager (Big Data/Hadoop) at HPE Security – Data Security.
Hewlett Packard Enterprise wants to help its customers get ahead of the IoT security challenge.
Join Reiner at Session BB8617 at HPE Discover 2016, June 7-9 in Las Vegas, to learn more about how IoT technologies increase the threat landscape. In this session, titled "Securing Sensitive Data for Big Data and IoT," Reiner will explain why traditional security approaches fall short in IoT. He will also introduce security methods such as format-preserving encryption (FPE), and explain how they can be combined with HPE Security ArcSight and HPE Security Fortify solutions to reduce the risk of attacks both on the back end infrastructure as well as the device.
Sign up for this session with the HPE Discover 2016 Agenda Builder. If you haven't registered for Discover yet, there's still time!