The Young and the Brave
Many have lamented the graying of the mainframe workforce (Graying workforce endangers your mainframes, Who's Watching the Mainframe?, and The Graying of Mainframe IMS and CICS DBAs: Time for an Exit Strategy, among others).
SHARE®, a long-standing enterprise IT user group, has a zNextGen® project to promote education and provide mentoring for new mainframe users, but the fact remains that the majority of SHARE members and mainframe user group meeting attendees have at least some gray hair.
But not all of them!
A young man in Maryland, Connor Krukosky, is a budding electrical engineer and vintage computer enthusiast, who enjoys tinkering with his collection of old machines. A few months ago, he noticed a z890 (five generations old, released in 2004) for sale on an online auction site, and after a bit of bidding, acquired it for the princely sum of $237. List price for the set of feature codes he bought was over $340,000 when new (with monthly maintenance of more than $3,000!), so he got a bargain for 120MIPS of System z computing power—modest by today's standards, but more than any of us dreamed of having through most of our careers.
Next he had to take it apart, haul it home, and (thanks to some very tolerant parents) reassemble it in his basement. He's no fool, so along the way he realized he could use some help. He reached out to the IBM-MAIN mailing list, where he found a receptive community full of ideas.
Of course since many of those folks are SHARE members, they immediately suggested that he should come speak about his project. Alas, Connor is 18 and in college, and somewhat lacking in discretionary travel budget. But upon hearing his plight, HPE Security – Data Security offered to sponsor him, and so he will travel to San Antonio in early March, presenting:
I Just Bought an IBM z890 – Now What?
Room 221B, Henry B. Gonzalez Convention Center
900 E. Market St., San Antonio, TX 78205
Wednesday, March 02, 2016: 3:15 PM – 4:15 PM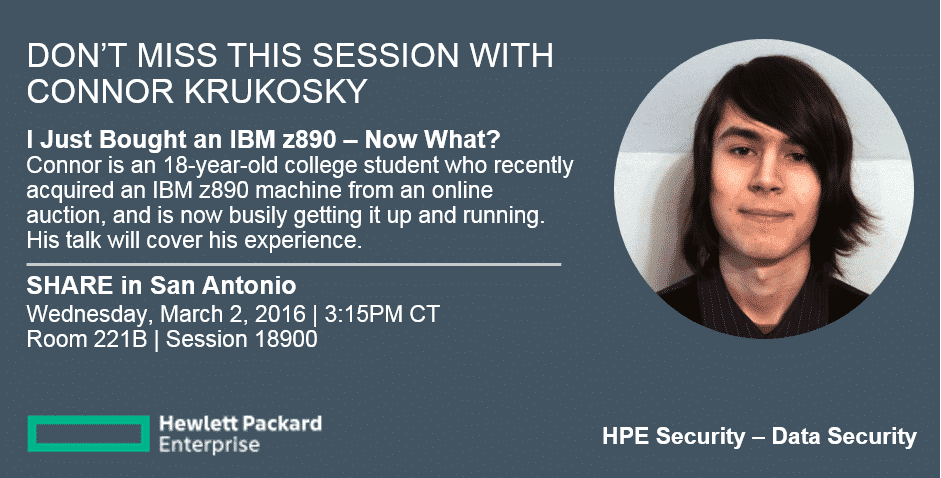 If you're planning on attending SHARE, you won't want to miss this session. And if you are considering attending, you'll want to add it to the list of reasons to be in San Antonio that week!
For more information about SHARE in San Antonio, February 28-March 4, visit http://www.share.org/aboutsa and look for me in San Antonio!
About the Author:
Phil Smith III is Senior Architect & Product Manager, Mainframe & Enterprise, at HPE Security – Data Security, formerly Voltage Security, Inc. He has been with the company for eight years, where he manages and evangelizes the z/OS product line, and has spent over 35 years doing and managing software support/development. Phil also creates technical reference books, contributes to trade journals, speaks at SHARE and local user groups, and tracks IBM evolution.