Securing Sensitive Data In and Beyond the Enterprise Data Hub
Today Cloudera offers a complete solution with Hadoop at its core: the Cloudera Enterprise Data Hub (EDH). It's designed to solve data management problems by taking advantage of the power of Hadoop. But Hadoop by itself is not enough, it's not an EDH. Success requires a solution built around Hadoop to deliver enterprise-class security, robust data governance, system manageability, and integration with a wide range of complementary infrastructure. It also requires a system that can handle a wide diversity of workloads in a single system.
HPE SecureData Suite for Hadoop
HPE SecureData complements Cloudera's enterprise-class security, management and governance with a unique, proven data-centric approach to the protection of sensitive data in and around Hadoop. In addition, HPE Security – Data Security offers the ability to significantly reduce the scope of regulatory compliance audits of the Hadoop data clusters, and connected systems and applications. HPE SecureData does this by protecting the data itself, enabling data scientists to perform analytics on protected data, even while the value of the data to attackers has been removed.
The HPE SecureData Suite for Hadoop secures sensitive data as close to its source as possible, and does so in a way that is scalable, format-preserving and maintains the analytic meaning and logic of the data without live data exposure risk. It protects data at the field-level so that it can be used by applications in its de-identified state, yet can also be selectively and securely reversed for those specific applications and users that require it. HPE SecureData secures sensitive, regulated data at rest, in motion, and in use–not only within Hadoop but across all systems throughout the multi-platform enterprise.
HPE SecureData Suite for Hadoop – How It Works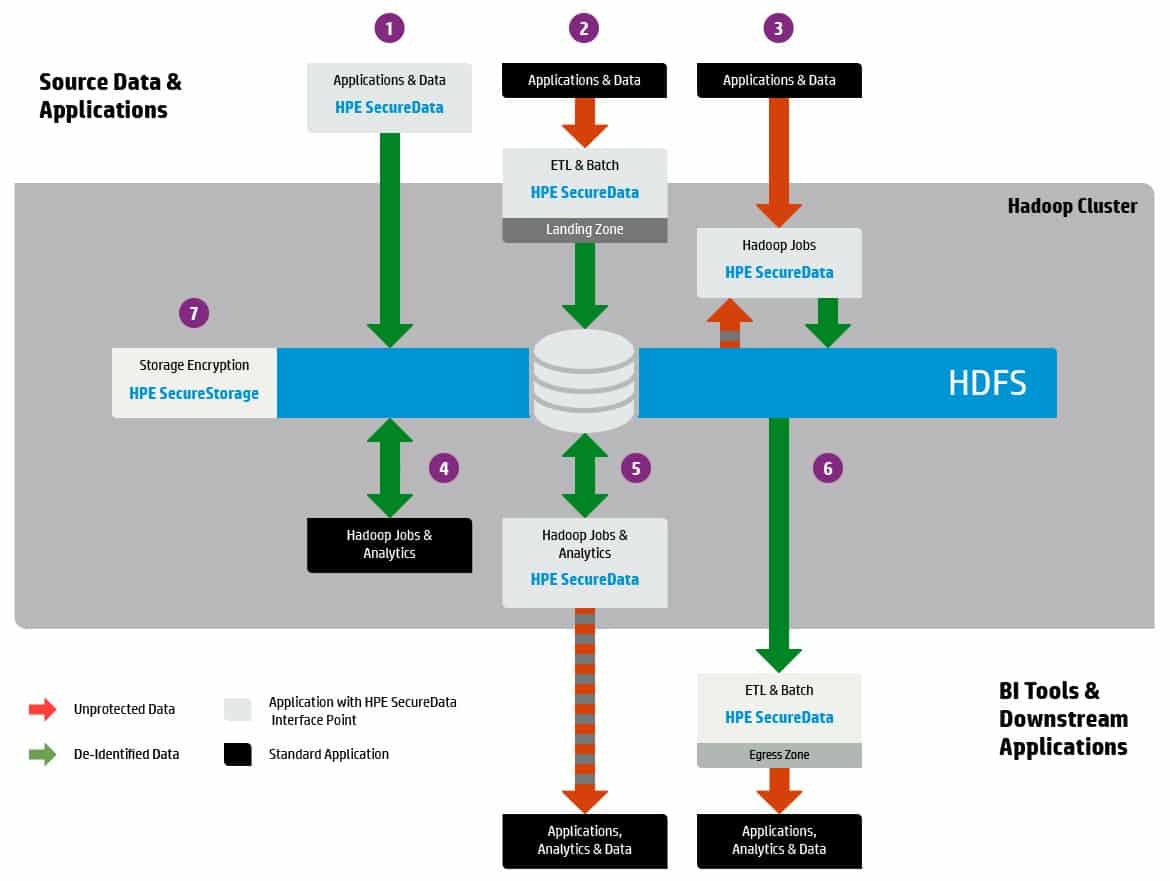 HPE SecureData provides multiple options for securing sensitive data–applying data security at source applications, on ingestion into or within Hadoop clusters, and in Business Intelligence tools and downstream applications.
---
Secure Sensitive Data In and Beyond Hadoop
HPE SecureData secures sensitive data pervasively within Hadoop and across all systems throughout the enterprise, end-to-end throughout the data lifecycle.