Hortonworks and HPE SecureData for Hadoop
With the momentum behind Big Data growing and use of the Apache Hadoop architecture increasing in enterprise deployments, a comprehensive data protection strategy is needed to mitigate risk of breach and assure global regulatory compliance. HPE SecureData for Hadoop delivers the data protection strategy organizations need to deploy Big Data initiatives for competitive advantage. Hortonworks and HPE Security – Data Security together are collaborating to provide comprehensive security for the enterprise to enable rapid and successful adoption of Hadoop.
Extending the Layers of Security
While Hortonworks is the only 100-percent open source software provider to develop, distribute and support an Apache Hadoop platform, HPE SecureData's data-centric approach to security encrypts and protects both structured and unstructured data at the source, adding a new level of data security for Hortonworks developers and end-users. HPE SecureData augments the work in the community with a data-centric security platform to protect sensitive data across various data stores in Hadoop, securing the data from unauthorized access while at rest, in use and in motion, still maintaining the value of the data for analytics, even in its protected form.
HPE SecureData and Hortonworks Data Platform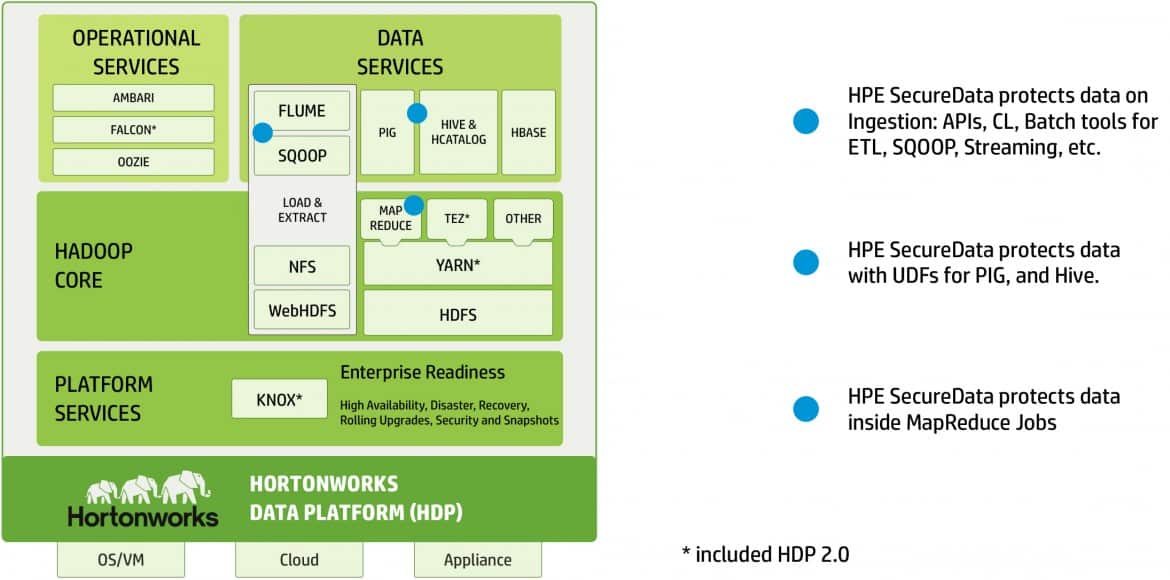 Hortonworks Data Platform combined with HPE Format-Preserving Encryption (FPE) and HPE Secure Stateless Tokenization (SST) secures sensitive data at all times through the data life-cycle.
---
"As Hadoop platforms go deeper and wider into business critical applications, our enterprise customers need security tools that fit and scale inside their big data environments. HPE Security - Data Security's proven data-centric approach and encryption technology leadership make them a perfect strategic technology partner for us and it's exciting to know that together we will ensure that our users can fully realize the potential and business value of their data."
Need to Secure a Big Data Environment?
Protect sensitive data, enable analytics without security risk, and neutralize breaches with data-centric technologies