Perspecsys and HPE Security – Data Security Securing Sensitive Cloud Data
Perspecsys and HPE Security – Data Security are working together to transparently protect sensitive data before they leave an enterprise's control and go to cloud applications for processing and storage. With the integration of HPE Format-Preserving Encryption (FPE) and Perspecsys Cloud Data Protection Gateway (AppProtex™), enterprises maintain full use of their cloud applications and gain full control of their sensitive data, since it is protected before it leaves their corporate environment. This approach yields a zero-compromise solution that enables enterprises to confidently move to cloud computing with the strongest security and the best experience for their users.
Protecting Cloud Data
The partnership between Perspecsys and HPE Security – Data Security addresses critical security and usability requirements associated with applying encryption technology to safeguard sensitive information in cloud environments.
• Maintain highest level of security (FIPS 140-2) without impacting user experience in the cloud
• Enterprise maintains ownership of encryption keys
• HPE SecureData encryption is fully compatible with cloud application data field requirements (e.g. fixed data lengths and formats)
• Perspecsys gateway preserves application usability (e.g. search, report and sort) across multiple cloud applications
• Indutry-approved encryption that meets the needs of the security office
How it works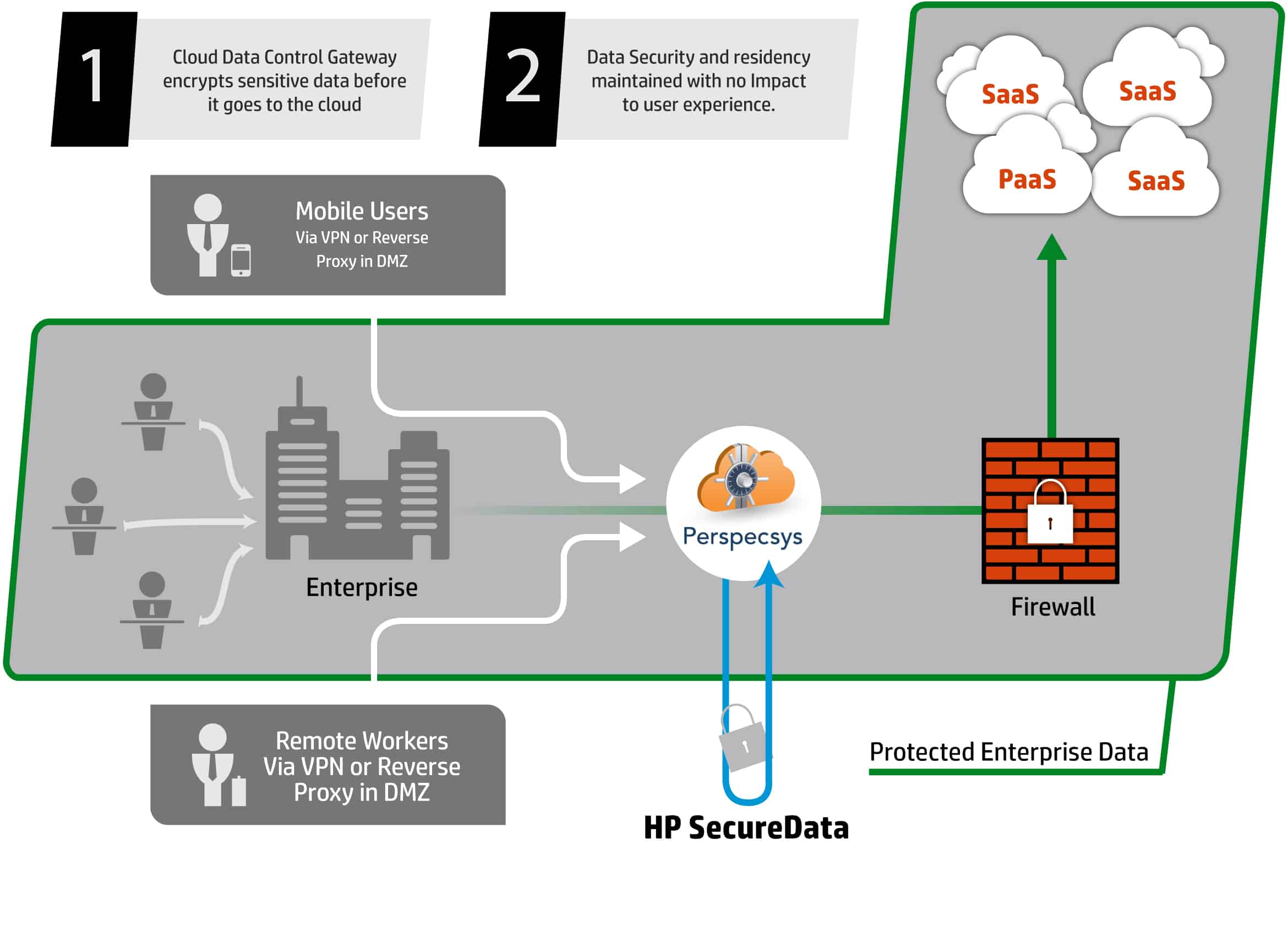 The combined Perspecsys and HPE SecureData solution is a comprehensive secure model that safeguards sensitive information in the cloud and does not compromise security. The encryption technology works within cloud application constraints without impacting the experience of the end user. Together PerspecSys and HPE SecureData bring strong encryption security and flexibility to increase enterprise cloud adoption.
---
"For enterprise customers, identifying a secure and straight-forward way to rapidly move to the cloud is a top priority. By joining forces to deliver a solution that can leverage the strongest forms of encryption technology, including HPE FPE, and simultaneously preserve the application's usability, we are able to offer enterprises a zero trade-off solution, enabling them to confidently make the move to the cloud with the strongest security and the best experience for their employees."
Secure Sensitive Data in the Cloud
Get the security and control needed to make the move to cloud computing.