HPE Protect 2016 Data Security Recap
This September, over 2,000 people descending on National Harbor, MD, for HPE's largest security event of the year, HPE Protect. The conference explored approaches to security and risk management, while highlighting the future of cybersecurity at HPE. In case you were not able to attend, we have some data security highlights below.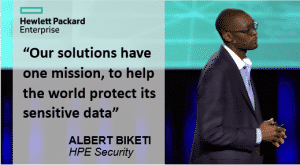 Albert Biketi, VP and GM of Data Security and Encryption, HPE Security Products, spoke about the integration of HPE SecureData with HPE Atalla Hardware Security Module (HSM), which offers a cohesive end-to-end data security approach to protect organizations' most sensitive digital assets.
By seamlessly integrating HPE SecureData with HPE Atalla HSM, customers across all industries can work with a single vendor to secure their data and meet data protection regulations required by the payment card industry data security standard (PCI DSS) and the new global data privacy regulation (GDPR), as well as protect personal identifiable information (PII) and personal health information (PHI).
Albert was also on the mainstage during the keynote session to talk about Data Security, including all the great products the team has worked on, as well as some road map items. He also brought up Kevin Goode, VP of Platform Engineering and shared services with Inmar, a company that uses data science and Big Data to improve outcomes for consumers and those who serve them. Kevin explained how HPE helps his company protect sensitive data in Hadoop environments, without putting a burden on IT.
Alex Tapscott, co-author of "Blockchain Revolution," closed the keynote sessions by captivating the audience with his idea of the blockchain becoming the new supply chain in the not-so-far future due to its built-in security. "Blockchain takes the middle man out of all transactions of value," Tapscott said.
Alex joined Terence Spies, HPE Distinguish Chief Technologist and Tim Grieveson, HPE Chief Cyber & Security Strategist, EMEA, for a video session on "Clearing the Path for Blockchain Technology.
Blockchain technology was developed to enable the Bitcoin network, but it has the potential to disrupt all industries, particularly the financial services sector. The three discussed predictions related to blockchain technology and how it's expected to transform future economies, and examined the advantages and challenges of blockchain to help organizations prepare for this latest disruption.
Also at HPE Protect, Terence sat down with Cyberscoop Radio at National Harbor to discuss five myths that federal agencies have to deal with when it comes to encryption. Terence spoke with host Greg Otto on how format-preserving encryption can allow for agencies to conduct their work without systems slowing down or breaking altogether. Terence also highlighted how encryption isn't enough on its own, needing to be formatted correctly in order to protect the sensitive data agencies regularly deal with. Terence also explained that new forms of encryption can be added across a number of different enterprises, from systems looking to harness the cloud to those that still depend on legacy technology. Listen here:
To summarize, I'll leave you with a quote from Albert Biketi, "My team builds data security products, and our solutions have one mission, to help the world protect its sensitive data."
Visit here for more Security highlights and see all the videos from HPE Protect.