Retailers Can Make the Most out of Retail's BIG Show
Retailers from the C-Level and Senior Execs to regional managers, and single store operators, will be at the National Retail Federation's Annual Convention & EXPO, "Retail's BIG Show 2016." This is NRF's flagship industry event, held this year in New York City from Jan. 17-19 at the Jacob K. Javits Convention Center.
Retailing has changed a lot in the last few years alone. Shoppers are impatient. They expect access to a deep range of goods and a seamless experience between physical and digital sales channels. Ecommerce and mobile shopping have changed the retail world forever, with technology in the forefront of retailers' efforts to streamline offerings and services to their customers regardless of channel. A transformation is well underway from single channel (such as physical retail outlets only) to multi-channel, cross-channel and omnichannel.
As part of this Retail IT transformation, advanced technologies are maturing–for example, Mobile POS is getting well-established as an addition to traditional POS. And retailers plan to spend a healthy 6.5% more on predictive analytics* using large volumes of data for consumer insights and what-if scenario modeling. Today, retailers have more data about customers than they could have imagined just a few years ago. But most are still struggling to manage and make the best use of the customer data they already have. Smart retailers are reaping the rewards of Big Data by understanding the information they already have and protecting it to keep their business and their customers from risk.
Because retail relies so heavily on customer information for growth, the protection of that data has become its own challenge. In fact, corporate information security and risk has become one of the top agenda items for retail organizations at the board level, according to HPE strategic sales expert Charles Keane.
How do you manage financial data, customer information, and intellectual property responsibly in the age of the hack? "We need a conversation about how retailers are approaching and understanding today's security challenges and the changing threat landscape," says Keane. "It's important that businesses follow best practices of data-centric security, which means encrypting all sensitive and regulated data as it enters their ecosystems, and have the protection follow the data-at-rest, in-use and in-motion. This is especially urgent in the retail and financial industries," relates Keane.
Making the Most at NRF
Charles Keane will take the stage Sunday, Jan. 17 from 11-11:30 a.m. at the Level 1 EXPO Hall in the BIG !deas Room 1, presenting "Think Like a Bad Guy: What's at Stake for Your Organization?"
HPE subject matter experts will also be offering 1:1 customized meetings to discuss the four transformational business areas and how they can benefit your organization. For Data Security, don't miss "Protect your Digital Enterprise", with Dan Megan, George Rice, & Charles Keane: Discover the comprehensive security strategy that can help businesses protect data from the moment it is created. Find out more at HPE booth #2943.
New Study on Store Systems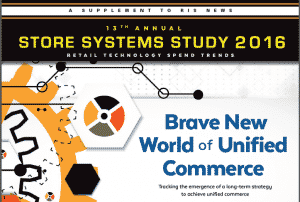 Findings from the just published study, "Brave New World of Unified Commerce – 2016 IT Forecast" will be presented for the first time at this NRF session. This RIS/IHL 2016 Store Systems Study was co-sponsored by HPE Security – Data Security and the session will be held on Monday, 1/18, at 1:30 pm in Hall E, 1E 16.
The Study provides insights into IT spending and technology evolution, exploring the long-term strategy of Unified Commerce, that transformation toward the seamless experience that customers expect. Here is a sample of some revealing statistics from the study:
Strong IT spending for 2016: Spending on Enterprise IT will be up 4.6% over last year, and store IT up 3.9%:
26% of software investments will go to cloud-based solutions.
Nearly a third of retailers plan to make a new POS decision this year. Key purchase areas are POS software and mobile POS (36% plan to purchase both), and POS hardware (30%).
Results confirm Mobile POS strategy is "in addition to traditional POS" not a "replacement".
EMV:  Few retailers made the deadline:
Only 18% of retailers made the October 2015 EMV deadline and 79% of these were tier-one.
Emerging Technologies: These are technologies retailers are realistically planning to adopt with clear business value established (not bleeding edge), including Predictive Analytics, Proximity Marketing (Beacons), Data Visualization, RFID, and Internet of Things.
61% of retailers plan to increase spending (up 6.5%)* on predictive analytics–this is the largest dollar increase among the emerging technologies tracked.
Spending will increase 2.4% in IoT.
The 2016 Store Systems Study: Brave New World of Unified Commerce study may be downloaded in advance of the session.
If you are in Retail, don't miss this really "Big Show."
Learn more about how to secure retail transactions in store and online.