The 2016 HPE Software Innovator Awards Go To….
Each year Hewlett Packard Enterprise recognizes those who have successfully leveraged HPE Software solutions to transform and enable their business in the HPE Software Innovator Awards. This prestigious group of winning companies are able to leverage solutions that embrace change, harness data, manage risk, empower agility, and enable workforce productivity. Companies are self-nominated and the winners are celebrated at HPE Discover in Las Vegas. Those winners join the Software Hall of Fame with companies including: JP Morgan Chase, T-Mobile, and Kaiser Permanente.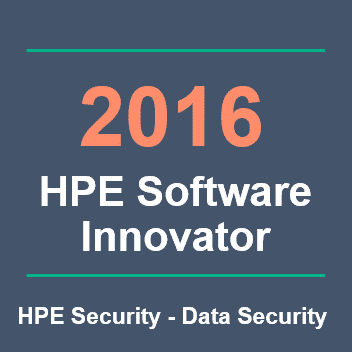 This year, two such companies and their representatives were recognized as honorable mentions in the Protect Your Digital Enterprise section for leveraging Data Security software.
Tangerine Bank
Billy Lo, Head of Enterprise Architecture
Canada's leading online bank accelerated the launch of an innovative new credit card business with HPE SecureData Enterprise and HPE Secure Stateless Tokenization (SST). Tangerine Bank (formerly ING DIRECT Canada) worked with HPE to deploy data security to support their launch in an unprecedented six weeks. By implementing HPE SecurityData Enterprise with SST, Tangerine Bank was able to: accelerate time to revenue, reduce the number of servers containing sensitive personal information, offer successful preview programs for early adopters, protect credit card numbers, improve overall security by aligning with best practices for Payment Card Industry Data Security Standard (PCI DSS) compliance, and simplify integration with existing solutions.
Find out more in the full report.
Allegiant Travel Company
Chris Gullett, Director of Information Assurance
The Las Vegas based travel company worked in partnership with HPE to enable point-to-point enterprise data security with HPE SecureData Enterprise and HPE SecureData Web. Allegiant engaged the HPE Security – Data Security Professional Services organization to achieve a successful solution implementation on time, under budget, and with no adverse impact to business operations. With these implementations Allegiant Travel Company was able to: achieve Payment Card Industry Data Security Standard (PCI DSS) compliance, reduce the number of stored credit cards from millions to zero, lower the cost of PCI audits, reduce risk of data theft, and free developer time to work on revenue-generating projects.
Find out more in the full report.
Missed the action? Visit the HPE Discover site to view highlights, recordings of key sessions and interviews.