Data Security at Discover
With story after story of recent data breaches, data security is a hot topic and continues to grow. For those attending Hewlett Packard Enterprise Discover 2016, this is great chance to catch the Data Security sessions.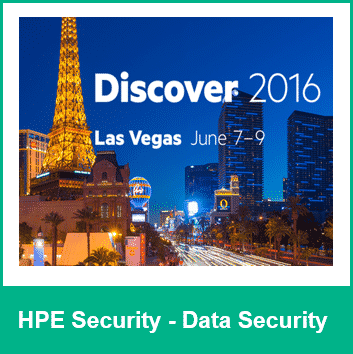 HPE Discover takes place June 7-9 in Las Vegas and features over 10,000 IT professionals, making it HPE's largest customer event. It is a great opportunity to explore new technologies, gain hands-on learning and network with fellow CISOs and security professionals whose job it is to think about Data Security.
Here is a sample of the Data Security sessions:
Session ID: T8616
Title: Build in security; an ounce of prevention is a very good thing
Speakers: Albert Biketi, VP and GM of HPE Security – Data Security and Jason Schmitt, VP and GM of HPE Security Fortify
Description: Hewlett Packard Enterprise advocates an integrated approach to security. By focusing on your critical digital assets and the interactions between them, you can implement a more proactive and effective approach to security and risk management. Come to this Theater session to learn how you can harden your applications and encrypt your most important data to create a more preventative cyber security program.
Session ID: DF8615
Title: Preparing for a new wave of aggressive privacy compliance
Speakers: Mark Bower, Global Director Product Management for Data Security and Chris Griffith, Global Director Product Management for Data Security
Description: Do you know what the new EU privacy regulations (GDPR) mean for U.S.-based companies and service providers doing business in the EU? Come to this Discussion Forum to get an overview of GDPR and find out what they mean to you. Learn about the concepts of pseudo-anonymization, how HPE Format-Preserving Encryption (FPE) and HPE Secure Stateless Tokenization (SST) meet reasonable assurances of privacy under the new regulations and more.
Session ID: BB8617
Title: Securing sensitive data for Big Data and the Internet of Things
Speaker: Reiner Kappenberger, Global Product Manager for Big Data/Hadoop, Data Security
Description: HPE Security-Data Security presents insights and strategies for securing sensitive data and speeding the Big Data platform and Internet of Things implementations. Attend this session to learn about strategies for de-risking your projects, enabling the portability of data for effective analytics, and ensuring security throughout the data lifecycle and across multi-platform enterprise environments.
Session ID: BB8614
Title: The payments ecosystem; security challenges in the 21st century
Speaker: Phil Smith III, Software Engineer, Data Security
Description: Despite companies' best efforts to secure payments at the system level, millions of card numbers have been breached at all layers of the system. The Payment Card Industry Data Security Standard (PCI DSS) provides excellent guidelines to help secure data, but many breaches have occurred despite passing PCI DSS compliance assessments. Join us to learn how the threat landscape is evolving, what attackers are doing, and how merchants and processors are reacting to stay ahead of attackers.
Session ID: T9185
Title: Is my data safer in the cloud?
Speakers: Farshad Ghazi, Global Product Manager, Data Security and Chris Steffen, Chief Evangelist – HPE Cloud Security
Description: Enterprises are rapidly adopting cloud, but one big question remains: "How can I make my hybrid cloud secure?" Studies tell us that when an enterprise deploys a hybrid cloud, security and compliance are the top concerns. Since hybrid clouds are a combination of multiple private and public clouds, additional considerations must be made when developing a security strategy. Come to this session to learn about five critical security factors all enterprises must address to secure their hybrid clouds.
Session ID: DF9494
Title: Key Management: The "Key" to Successfully adopting Enterprise Encryption
Speakers: Farshad Ghazi, Global Product Manager, Data Security Nathan Turajski, Global Product Manager, Data Security
Description: For data encryption to be successfully integrated and deployed with enterprise IT, a best-practice approach to managing encryption keys needs to be an integral part of the strategy. But not all applications and use cases require the same approach. Join this chalk talk where HPE Data Security product management experts will discuss the various approaches being adopted today based on the diverse data types, applications and systems requiring high-assurance security.
(Note – this is a special Connect Tech Forum Chalk Talk at the Connect Community Lounge)
See the full list of Security sessions and customize your agenda. This is your chance to learn from the experts in Data Security and get your questions answered, and talk to others with the same interests.
Don't forget to connect with us on Twitter and LinkedIn to talk Data Security! We're looking forward to seeing you in Las Vegas.