DBTA 100- Companies That Matter Most in Data
In the June issue of Database Trends and Applications (DBTA) magazine, DBTA introduces the third annual list of companies that matter most in data. Database Trends and Applications magazine reports on big data, analytics, data science, business intelligence and all aspects of data creation, management, and storage.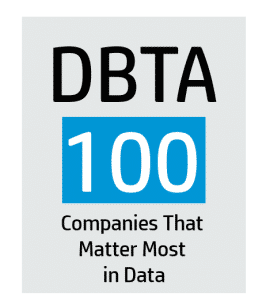 In the last two to three years there have been dramatic changes in IT, according to DBTA, due to the fact that data is being created and amassed at higher rates than ever before. According to SINTEF, a large, independent research organization in Scandinavia, a full 90 percent of all the data in the world has been generated over the last two years. This data is increasingly viewed as a valued asset, or even a product itself.
Newer open source information management technologies, such as Hadoop and cloud, as well as NoSQL and NewSQL, are gaining traction and enabling insights from data generated inside and outside company walls. According to a recent Unisphere Research survey, two-thirds indicated that structured data represents at least 75% of the data under management. At the same time, Hadoop-based offerings present organizations with a way to leverage a wide array of unstructured data.
Data, whether structured or unstructured, is seen more than ever before as a valuable enterprise resource, according to DBTA. With the intertwined issues of high data volume, more data sources, and emerging data management technologies, DBTA questions who will take charge of data management in the enterprise.
Organizations are facing a looming shortage in database expertise, at a time when the need for data analytics is becoming paramount. Adding to the pressure on data professionals is the brighter spotlight on data security, DBTA shrewdly points out.
To provide information about forward-thinking providers of hardware, software, and services in the changing IT ecosystem, DBTA presents the "DBTA 100," a list of companies that matter most in data. HP Security Voltage is honored to be included in that list. In addition, Albert Biketi, VP and GM, HP Atalla & HP Security Voltage, offers his "View From the Top" perspective on how HP Security Voltage uniquely address today's data-driven requirements.
It is not just the gathering and storage of Big Data that companies are interested in, it is how the data can be brought together and analyzed to discern patterns and make better business decisions. However, when Big Data is used in an enterprise environment, the importance of security becomes paramount, says Biketi. Organizations must protect sensitive customer, partner and internal information and adhere to an ever-increasing set of compliance requirements.
One of the great things about a Hadoop deployment, continues Biketi, is that it concentrates data from multiple sources and multiple enterprise systems in real-time for analytics and new business insights—however, this also brings with it varying (or unknown) protection requirements. As these multiple types of data combine together in the Hadoop "data lake," the data is accessed by many different users with varying analytic needs. Organizations face the risk of even further reduced control if Hadoop clusters are deployed in a cloud environment.
Biketi shares his thoughts on a data-centric approach to combat this issue. A data-centric approach protects sensitive data end-to-end from the moment of capture, as it is processed, and stored across a variety of devices, operating systems, databases, and applications. This data-centric approach helps enterprises neutralize data breaches by rendering data valueless to attackers, de-identifying data through encryption, tokenization and data masking. Yet the vast majority of business analytics can be accomplished on the de-identified, protected.
For more information, read the technical brief, "Protecting Enterprise Data in Hadoop," and the data sheet, "HP SecureData Suite for Hadoop."