Discover Data Security in London at HPE Discover
Be sure to mark your calendars now for HPE Discover London 2016, happening November 29 – December 1. This is Hewlett Packard Enterprise's largest customer event, with over 10,000 IT professionals slated to be in attendance. Join this community of executives, managers, architects, engineers and solution experts from around the world to explore new technologies, such as the ever-growing Internet of Things (IoT), and gain hands-on learning and training.
While at Discover London, be sure to check out the GDPR zone. The EU General Data Protection Regulation, or GDPR, is a law with both global impact and potentially significant consequences to any business that deals with European citizens' data. With the regulation becoming effective in May 2018, HPE wants to make sure you are prepared for GDPR. The theme of the zone is: Make compliance good for your business. Join us at the GDPR Zone to meet with industry experts and discuss techniques and best practices about how to get ahead.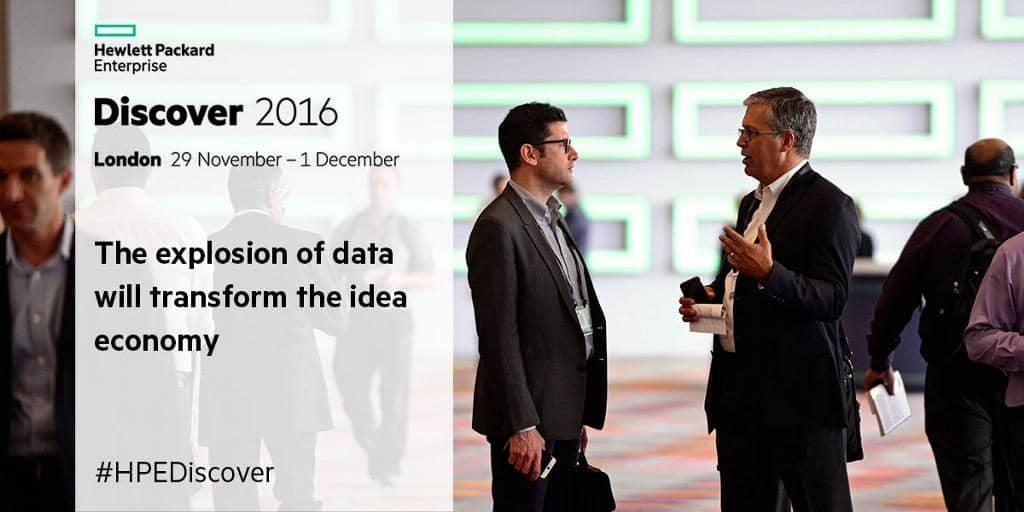 Below are sessions that pertain to Data Security, IoT, Ransomware, and GDPR. He sure to add them to your agenda builder for HPE Discover:
Protect your digital enterprise, the security challenges and solutions for a rapidly transforming business landscape
Session ID: SL11395
With business innovation, including the shift to hybrid cloud, the increase in workforce mobility and the use of big data analytics, protecting critical infrastructure, applications and data has never been more urgent. Security professionals must secure technical complexity while at the same time meeting new compliance regulations like GDPR. Join Sue Barsamian and HPE Security's leadership team to discuss the challenges and opportunities created by digital transformation and discover how IT organizations are tackling them.
Build in security to address GDPR, ransomware and more, and find out why an ounce of prevention is a very good thing
Session ID: T11367
Learn how Hewlett Packard Enterprise can harden your applications and encrypt your most important data to comply with GDPR privacy regulations, and create a more preventive cyber security program. Don't wait for intruders to get through your firewall with malicious code or ransomware. Find out how to neutralize application vulnerabilities and lower your risk. By implementing a more proactive and effective approach to security and risk management, you can protect your critical digital assets and the interactions between them.
Why the EU's strict data privacy law may be good for global IT security
Session ID: DF11366
Do you know what the new EU privacy regulations (GDPR) mean for companies and service providers doing business in the EU? Do you know what happens if you collect an EU citizen's personal data? Come to this Discussion Forum to get an overview of GDPR and find out what the regulations mean to you. Learn about the concept of pseudo-anonymization, how HPE Format-Preserving Encryption (FPE) and HPE Secure Stateless Tokenization (SST) meet reasonable assurances of privacy under the new regulations and more.
Securing Big Data and IoT analytics against cyber attacks
Session ID: BB11370
With the adoption of the General Data Protection Regulation (GDPR), are you concerned about protecting personal data when it flows across your Hadoop and Big Data clusters? Worried about the security of your IoT implementations? Discover HPE SecureData, which integrates into many platforms, enabling you to keep your sensitive data protected when it flows across multiple systems spread across multiple data centers on-premise or in the cloud. Get strategies to enable secure analytics on protected data and comply with data privacy regulations.
Connect Tech Forum, Data Security
Session ID: DF11828
Join the HPE Data Security team to discuss how to neutralize data breaches and protect your brand. Find out how HPE Security – Data Security protects sensitive data at-rest, in-motion and in-use for cloud, big data and IoT, as well as enables compliance to data privacy regulations such as the EU's General Data Protection Regulation (GDPR), and delivers secure analytics. Find out how to secure servers, storage, and infrastructure and mission critical sensitive data against losses, mishandling and cyber-attacks.
Friend or foe? Are you prepared for the EU General Data Protection Regulation (GDPR)?
Session ID: PNL10805
The EU General Data Protection Regulation (GDPR) replaces the former Data Protection Directive to harmonize data protection laws across 27 EU member states. GDPR will affect any business that operates in Europe, with sanctions up to 4% of global turnover for noncompliance. With the regulation becoming effective in May 2018, now is the time to prepare your business. Join us to hear from leading experts and HPE thought leaders including Tim Grieveson, HPE Cyber Security Strategist and former CIO/CISO, about how to get ahead.
Proactively protecting your organization against ransomware and mitigating risk with Hewlett Packard Enterprise
Session ID: BB11339
Today, practically all organizations are susceptible to ransomware. Despite your best efforts to secure information in transit and at rest, chances are good that you or someone in your organization will one day be asked to pay to access your data that has been locked down by hackers. The best defense against ransomware is to have a solid backup plan that will serve as an insurance policy if the problem arises. Join us to learn how HPE can help you manage risk with server and endpoint backup.
While at the show, be sure to check out the Industry Showcase to see how we secure payment information, and drive a virtual race car in the "Race to Protect" section. Also, make sure to stop by our data security demo titled "Build in security for data de-identification, data privacy and secure collaboration." This demo shows how our solutions encrypt and protect sensitive personally identifiable information (PII) and protected health information (PHI) in the enterprise.