HPE Discover 2016 Data Security Videos
HPE Discover 2016 took place June 7-9 in Las Vegas and was HPE's largest customer event. The show featured over 10,000 IT executives, architects, engineers, partners, and innovators. Attendees were able to gain hands-on learning, explore new technologies and ideas, while also building a network of other Data Security professionals.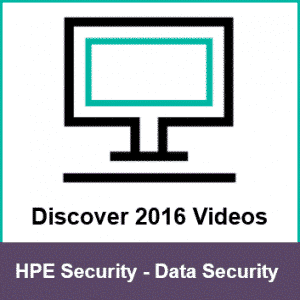 While at the show, a few of our experts sat down to make some videos.
HPE ESKM Achieves Common Criteria Certification
Sheryl Wharff, Global Product Marketing, interviewed Chris Griffith, Global Director Product Management, to discuss the importance of Common Criteria certification and why HPE ESKM is the most trusted key management solution. Recently, HPE ESKM achieved Common Criteria EAL2+, which you can find out more about in our Check Your Server is Trusted blog. HPE's goal is to make sure that customers can use current products with recent certifications, as well as new products with in process certifications.
HPE ESKM and Common Criteria Certification:
Taking a Data-centric Approach to Security
In this Discover 2016 video, Julie McHenry, Global Lead Product Marketing, talked to Albert Biketi, Vice President and General Manager, about data-centric security. Data-centric security focuses on protecting data regardless of its container, and in various states. The two discuss how NIST is both relevant and crucial when protecting data. HPE Format Preserving Encryption is now recognized standard way of protecting information.
Data-centric Approach to Security:
View Data Security's Discover session titled, "Securing sensitive data for Big Data and the Internet of Things," presented by Reiner Kappenberger. Discover how IoT technologies increase the threat landscape and why traditional security approaches fall short in IoT. Learn about security methods such as format-preserving encryption (FPE) , and how to reduce the risk of attacks both on the back end infrastructure as well as the device.