Join HPE Security at the Gartner Security & Risk Management Summit
June is right around the corner, which means it is time for the Gartner Security & Risk Management Summit in National Harbor, MD.  This annual gathering of security and risk management leaders helps organizations prepare for and head off increasingly dangerous cyber threats. The Summit takes place from June 12-15 and this year's theme is: Manage Risk. Build Trust. Embrace Change.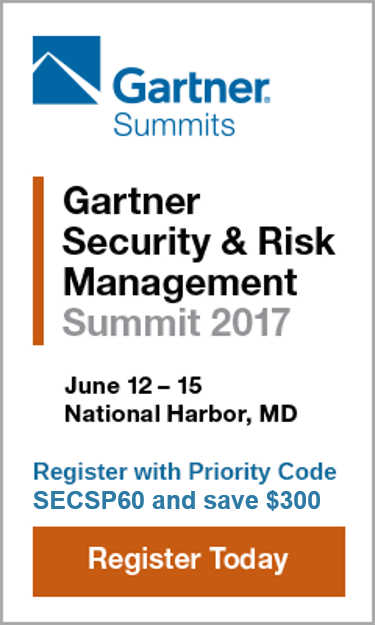 Who typically attends? Gartner reports that over 3,000 attendees such as CIOs, CISOs, security analysts and architects, and other related security professionals descend on DC for this annual event. The agenda addresses the latest threats, flexible new security architectures, data privacy, governance strategies and the role of the chief information security officer (CISO).
HPE Security at Gartner
HPE Security feels this show is so important to help educate security professionals that we are a premier sponsor, with a theme of "Fearlessly Innovate." We are in a period of disruptive change, where success is achieved by innovating faster than the competition. Innovating means adopting technologies that increase productivity, lower costs and extend businesses into new markets. In this environment, organizations that rapidly design, deploy and adapt IT based on the needs of customers, partners and employees cannot be slowed down by security. However, not considering risk in an increasingly connected world jeopardizes innovation.
We feel that security must accelerate, not impede innovation.  We help you build security directly into your data and your apps. We provide the visibility, analytics and automation to rapidly detect, respond to, and remediate threats at scale.
There are many ways to interact with HPE Security and educate yourself in protecting your users, apps and data.
Stop by our booth
Set up 1:1 meetings with our Security Experts
Attend our Solution Provider Session
Visit our Learning Labs
Visit our Booth
Visit us at Booth #103 to see live demonstrations of our industry leading Data Security, ArcSight and Fortify product offerings. At the booth, you can set up your 1:1 meeting with our security experts.
Solution provider session:
Join the SIEM Revolution: Q&A Exploring Today's Intelligent Security Operations 
Today's Security Operations are facing new disruptors: the sheer scale and variety of data sources, persistent and adaptive threats, and shortage of cybersecurity experts. It requires a revolutionary transformation of SecOps. Join us for a provocative Q&A session with experts managing security operations for some of the world's largest government and commercial organizations. Hear first-hand stories about how these pros are addressing the toughest security challenges and providing new levels of defense for their businesses.
Date: Monday, June 12
Time: 3:15pm – 4:00pm
Session ID: SPS14
Learning Labs:
New this year at the Gartner Security & Risk Management Summit are learning labs. HPE Security will host several learning labs to educate attendees on various topics including protecting against cyber threats, securing DevOps and data-centric protection for your most valuable data. See the detailed descriptions below and plan to attend the ones that are most relevant.
Data-Centric Protection for Your Most Valuable Data
Are you leaving your most important asset, your data, unattended? Discover how to neutralize breaches, comply with legislation and protect your most valuable data. Data-Centric security protects sensitive data at-rest, in-motion and in-use while powering Omni-Commerce, Cloud and Big Data. Join us to learn why AES FF1 is a strong, vetted, resilient NIST and FIPS validated mode of encryption that enables you to protect your most valuable data.
The new rules of engagement to protect against cyber threats
While organizations agree that protecting against cyber-threats is a top-priority, it is becoming increasingly difficult to pin point what EXACTLY needs to be done to achieve that. In this session, we will look at the three underlying disruptors that are responsible for today's cyber-attacks and then dive deep into the strategies that intelligent SOCs are adopting to fight against it.
Advances in application security: harness the power of machine learning
As the software environment becomes more complicated, can your app sec program actually become more simplified? See how machine learning can streamline your app sec process by highlighting vulnerabilities that are most critical to your unique enterprise, allowing you to focus on issues of most risk to you. 
Practical advice for securing DevOps: how to code securely without slowing down developers
As enterprises move towards DevOps, deployment cycles get squeezed.  How do you balance speed with security?  The two do not have to be mutually exclusive. In this session, we will share best practices from customers of market leading HPE Security Fortify. See how the best app sec programs deliver more secure code, faster.
2017 Hot Topics at Gartner
Gartner also has many sessions filled with content for security professionals. Some of the hot topics this year include privacy and data security, enabling safer cloud computing, risks and opportunities of the Internet of Things, data security and risk governance, and mobile security for digital business. HPE Security can help you navigate and leverage these topics to make you and your business successful.
Haven't registered yet? Our customers and prospects can register here with promo code SECSP60 for a discounted full conference pass, courtesy of HPE Security! Looking forward to seeing you at the show.