Security is not an IT challenge, it is a business challenge
The IT security threat landscape has changed dramatically in recent years. Enterprises once worried mainly about lone hackers. Now we face organized cyber-criminals, nation states and ever-changing regulations. Meanwhile, internal threats have proliferated with the rise of BYOD and BYOA (Bring Your Own Apps). Vulnerabilities exist in apps, networks, mobile operating systems and endpoints, across cloud and the Internet of Things.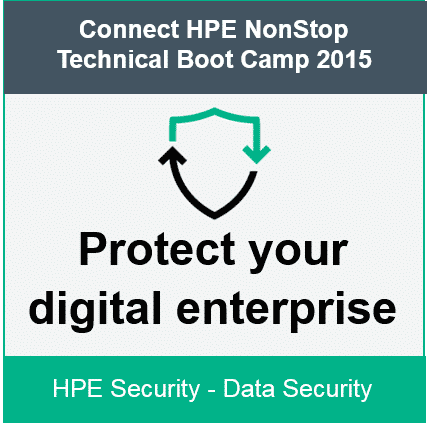 If you'd like to learn more about how the new Hewlett Packard Enterprise is helping customers protect their digital enterprise, please come join the HPE Security – Data Security team at this year's Connect HPE NonStop Technical Boot Camp 2015 being held at The Fairmont Hotel in San Jose, CA, November 15 – 18.  Take advantage of great educational programs, seminars, and sessions on payments security technologies including tokenization, point-to-point encryption (P2PE), EMV and digital payments. Network with colleagues from top firms in financial services, retail, transportation, healthcare, and more.
Our team will be easy to find in the Partner Pavilion at the Hewlett Packard Enterprise booth area. We are also offering some great educational sessions for registered attendees that offer detailed information on our technology integrations and partnerships with HPE NonStop and XYPRO.  Here you can learn more about the standards, architectural options for data security and our innovative, standards-accepted tokenization and encryption technologies that protect your sensitive data in the multi-platform enterprise.  At HPE Security, we've put our focus on identifying the modern threats and look at the interactions between users, applications and data whether it's on-premise, in the cloud or mobile and correlate and analyze those interactions so we can find and stop even the most modern security threats in the industry.
There are over 60 technical sessions being delivered at this key event of the year for customers running the HPE NonStop platform. Here is a brief description of the sessions being offered by the Data Security team:
Data-centric Security and Key Management for HPE NonStop X
John Weald – Global Director of Engineering, HPE Security – Data Security
Data security is one of the most challenging areas facing IT and HPE NonStop users across consumer-transacting businesses today. This tech talk will explore the advantages of innovative data-centric security technologies on HPE NonStop X. John Weald, Global Director of Engineering at Hewlett Packard Enterprise Security – Data Security, will discuss tokenization, encryption and key management from the perspective of "how it works". This session will introduce you to format-preserving encryption, native tokenization, and the benefits of stateless key management for protection of sensitive data in your large scale business and transactions processing. We'll look under the covers at how these technologies are implemented in your mission critical HPE NonStop X environment, and how performance gains can be achieved and costs lowered through more efficient usage of CPUs on NonStop X. The mega-breaches in the news today are not physical; instead, malware is exploiting the security gaps throughout payments channels and the extended enterprise. Attend this session to gain a deeper understanding of how to get ahead of rapidly evolving cyber-threats to secure sensitive customer and corporate data across your HPE NonStop X ecosystem.
The Payments Ecosystem: Security Challenges in the 21st Century
Philip H. Smith – Senior Product Manager and Architect, Mainframe and Enterprise, HPE Security – Data Security
We've all heard about the Ashley Madison breach—and Sony, and the IRS, and Target, and… Despite increased spending on security every year, data breaches keep happening, especially in the area of payment (credit and debit) cards. These instruments are established features of commerce, built on various networks and high-performance back-end systems. How does this ecosystem work? What are its vulnerabilities and security gaps, and how can we defend them? Simply keeping physical cards secure is not sufficient –and neither is protecting the IT perimeters of card processing systems. Breaches occur despite best efforts, and despite PCI DSS compliance. Come learn about how the payments ecosystem works, what really happened at Target and elsewhere, how the threat landscape is evolving, what the attackers are doing, and how merchants and processors are reacting.
PCI Compliance and Financial Transaction Security with the Atalla NSP – An Innovation Update from HPE Data Security
Speaker: Susan Langford – HPE Distinguished Technologist, HPE Security – Data Security
Hardware security modules (HSMs) enable the highest levels of security and compliance for critical transactions by safeguarding sensitive cryptographic processing within a secure boundary.  Join HPE Data Security as we discuss the latest related advances from the Atalla product line – the cryptographic payments HSM (NSP Ax160) and supporting products (Boxcar and SCA-3).  Learn about how we are supporting an expanded set of key management standards and core interfaces to enable a range of new high-demand use cases.
Hewlett Packard EnterpriseData-centric Security and Unified Key Management Strategy
Speaker: Steve Wierenga – HPE Distinguished Technologist, HPE Security – Data Security
An overview of the latest HPE Data Security technologies and solutions for data protection and policy/key management across servers, storage, partners, open source, big data, and government and industry interoperabilty/security standards.  Includes updates on the latest ESKM releases, certifications, and partner integrations.
Full details and session descriptions can be found on the Connect website. We look forward to seeing you there. For more information on HPE Security – Data Security offerings check us out on the web at: www.voltage.com and www.hpe.com/software/datasecurity.
-This blog post was written by Atalla Joe (Joe Androlowicz). Look for Joe at the NonStop Bootcamp in the Hewlett Packard Enterprise booth area or on the floor.