The Evolution of Hadoop
With the frequency and scale of cyber-attacks on the increase, HP Security Voltage is working hard to raise awareness and educate CISOs and security and risk professionals on how data-centric security enables enterprises to neutralize data breaches, secure Big Data in Hadoop and keep personally identifiable information (PII), payment card information (PCI)and protected health information (PHI) safe.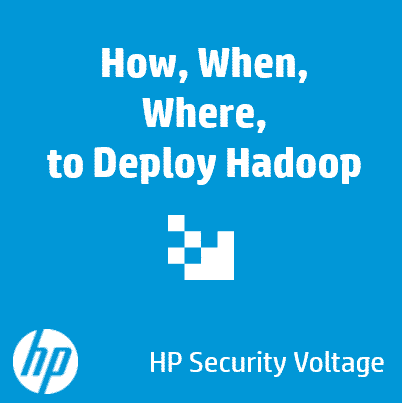 Securing data in Hadoop is of special interest to organizations due to the rise of Big Data and the ability to store and analyze massive data sets. Still many questions remain. What is Hadoop? Where does it excel, and where does it fall short? How will it evolve? What technologies naturally complement it and make it more effective? What exactly is a data lake and why would anyone need one? How can you make Hadoop enterprise ready? And the most important question a security executive must ask about Hadoop is when and how to apply security.
To answer these questions, HP Security Voltage partnered with Dr. Robin Bloor and The Bloor Group, a leading independent technology research firm, to co-sponsor a report titled, "Making Sense of Hadoop and its Ecosystem, An Investigation into the Evolution and Deployment of Hadoop." In this research report, the Bloor Group explores the current landscape of Hadoop and offers guidance for today's organizations to determine how, when, and where to deploy this powerful technology. In the research, The Bloor Group explores how existing information architectures can be modified to include Hadoop most effectively and provide examples of best-practice use cases. The Bloor Group also interviewed more than a dozen senior executives, data scientists and key business professionals to gain a deep understanding of how the most cutting-edge organizations are deploying Hadoop and its associated technologies to gain valuable information.
Here are several ways to gain new insights into working with Hadoop, including how the most cutting-edge organizations are implementing Big Data technologies with security in the forefront.
Exploratory Webcast – The Big Picture: Understanding the Many Roles of Hadoop
In this hour-long, live Web seminar, Dr. Robin Bloor provides his vision for Making Sense of Hadoop. He describes the current Hadoop landscape and explains key business drivers and challenges for adoption of a scale-out file system and explains how different use cases should be approached.
WATCH THE WEBCAST | DOWNLOAD THE SLIDES
Roundtable Webcast 
This hour-long, live Web seminar features two independent industry analysts. Robin Bloor, Chief Analyst The Bloor Group and Mike Ferguson, Owner, Intelligent Business Strategies offer their perspectives on the evolving Hadoop ecosystem. They will also discuss the challenges and benefits of the Hadoop ecosystem and the technology springing up around it.
WATCH THE WEBCAST | DOWNLOAD THE SLIDES
White Paper – Making Sense of Hadoop and its Ecosystem
Hadoop is not following a coherent road map – in fact its evolution is clearly chaotic. This 20-page detailed white paper by Robin Bloor, Ph.D. & Rebecca Jozwiak, investigates the evolution and deployment of Hadoop. The report will also include a diagram of the Hadoop Ecosystem.
DOWNLOAD THE RESEARCH REPORT
Findings Webcast
In this 70-minute Webcast, Dr. Bloor will share key discoveries made during the research process on the Hadoop landscape.
WATCH THE WEBCAST
Hadoop has matured dramatically just in the last year alone, and there is no question that it is fundamentally changing the information industry. Organizations are quick to capitalize on Hadoop's capabilities. However, Hadoop's unique open architecture, while a strength, also makes it inherently risky for sensitive data. Traditional security techniques cannot fully protect against today's advanced threats. If your organization is thinking of using the power of Hadoop, then learn more about a proven, data-centric approach to protecting sensitive data in Hadoop with SecureData for Hadoop.