Why you should attend the Gartner Security & Risk Management Summit 2016
Each year the Gartner Security & Risk Management Summit brings with it practices and strategies that provide security and risk programs to businesses. We enjoy talking to the CISOs and CIOs and other security professionals at The Gartner Security & Risk Management Summit who are looking to better monitor and secure their apps and data. Attendees alsogain insights into threats, learn how to apply techniques to counter those threats, and build security within their companies. If you are going to be at The Summit June 13 – 16, 2016 in National Harbor, Maryland, then take advantage of the wide range of workshops, analyst session, one-on-one meetings, and case studies, and take time to connect with HPE Security.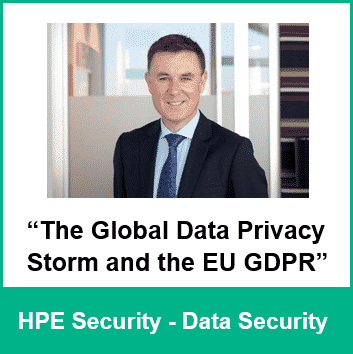 Here's a little more on the different portfolios HPE Security will showcase at the upcoming Gartner Security & Risk Management Summit:
HPE Security – Data Security drives leadership in data-centric security and encryption solutions and protects the world's largest brands and neutralizes breach impact by securing sensitive data. Data Security will be showcasing their new product, HPE SecureData with Hyper Format-Preserving Encryption (FPE), and Hyper Secure Stateless Tokenization (SST). What is exciting about this release is the new Hyper FPE technology delivers a proven and NIST-standardized method of protecting data in use, at rest, and in motion. This is especially timely for government agencies, global enterprises, and European organizations that need to comply with the newly formed General Data Protection Regulation (GDPR) requirements.
HPE Security ArcSight is an intelligent security operation which combines Security Information and event Management (SIEM), log management and user activity monitoring and DNS malware analysis to stop threats and mitigate risks. HPE ArcSight SIEM correlates system events, information flow, and user and application activity in near-real-time so that you can respond and remediate quickly.
HPE Security Fortify provides security across software development lifecycles. It offers the first on-premise application of self-protection. HPE Security Fortify finds security vulnerabilities in applications in production and provides an immediate visibility, optional real-time protection, and notifies HPE Security ArcSight operators to take action against attacks. HPE Security Fortify has been a leader in the every year since the Application Security report started.
Do you need to know more about the EC's new General Data Protection Regulation (GDPR) and how it affects your organization? While learning about HPE Security, do not miss HPE Security – Data Security's sponsored speaker, Stewart Room of PwC presenting on "The Global Data Privacy Storm and the EU GDPR. Beware of the Bears!" Look for Session ID SPS24 on June 14 at 10:30AM EST.
Be sure to visit HPE Security at booth #326 during the Gartner Security & Risk Management Summit to learn more on how to protect your digital enterprise. Don't forget to connect with us on Twitter, and LinkedIn. We're looking forward to seeing you in National Harbor.