HPE to Sell Data Security Products through Partners
Hewlett Packard Enterprise has made the strategic decision to sell Data Security products through their partners. The first products to be sold through partner channels will be HPE SecureMail and HPE Enterprise Secure Key Manager (ESKM), a Common Criteria certified product that manages encryption keys.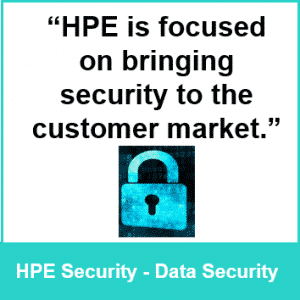 "As a company, HPE is heavily focused on security and bringing security to the market for the customer base. With that in mind, we have taken on the role of wanting to bring out data security solutions, which have been traditionally sold direct, into the channel," said Sheryl Wharff, Global Product Marketing for HPE Security – Data Security.
Resellers will now have the opportunity to open up a discussion about security with their customers. This allows them to bring into play the importance of encryption technologies and strengthen customer bonds. Wharff states that, "It's the next logical step for these resellers to begin to add security to their businesses. They're very excited about it and very excited about bringing it to market. This adds a wealth of opportunity for our resellers."
As of late, data breaches and questions around security have been highly publicized. "It's a much easier sell because the market has recognized that it's very important to protect data at rest that's sensitive. You need to bring these new technologies into the market and you need to protect the data in a way you haven't before," shares Wharff.
International Integration Solutions, one of HPE's largest partners, has seen an increase in interest surrounding security technologies. Jeff Smith, IIS Vice President, said he is in talks with two healthcare companies for a potential sale after they had to settle HIPAA violations due to lost or stolen data.
Since the split of HP and HPE in November, 2015, HPE has made Data Security one of their main pillars of focus. The change to moving security solutions through the channel comes in part from the appointment of Sue Barsamian as Senior Vice President of Enterprise Security Products in August 2015. As more products continue to become channel-ready, HPE will sell them through partner channels.
To find out more, see CRN's article.